WELCOME TO MY ONLINE COURSE
Building strong brands that stand out is becoming increasingly important. A growing body of research shows that strong, distinctive brands create purchase predisposition, increase brand loyalty, help maintain a price premium, and allows organizations to weather recessions better. And at the core of strong and successful brands are well-thought-through brand positioning statements. Unfortunately, this craft isn't taught properly any longer, or if it is, for a lot of money.
But what makes a strong brand? How is a brand created and stored in the mind of consumers? What is the foundation of a really strong brand positioning statement? Where do I start? How do I set my objectives? How can I segment my consumers? What role do insights play, where do I find them, and how do I know I have a winning insight? How do I write a compelling brand positioning statement, and how do I evaluate whether the brand positioning I created or that is submitted to me for review is great? And what should I watch out for when developing a brand positioning?
These are all the questions you'll be able to answer with confidence after taking this course.
The methodology shared in this course is based on the award-winning and best-selling "Brand Positioning Workbook: A Simple How-To Guide To More Compelling Brand Positionings, Faster", described as "hands-down, the best book on brand positioning since Ries & Trout introduced this concept many years ago".
If you expect a quick fix and shortcut with a bunch of catchy headlines and buzzwords to impress your colleagues or mom, this course is not for you. However, if you are serious about learning the fundamentals of brands and brand positioning development, and if you are serious about becoming one of the few real experts in the field, this course is for you.
It will give you the know-how, tools, frameworks, and confidence to build strong brands and create successful brand positioning statements that will help grow the brands you're working on.
I can't guarantee that taking the course will make all your wishes come through, allow you to find your soul mate, and live happily ever after.
But, I can guarantee you that you'll know more about -and have more confidence in- developing business-building brand positioning platforms than 95% of the marketing community and that this knowledge will help you in your job and career.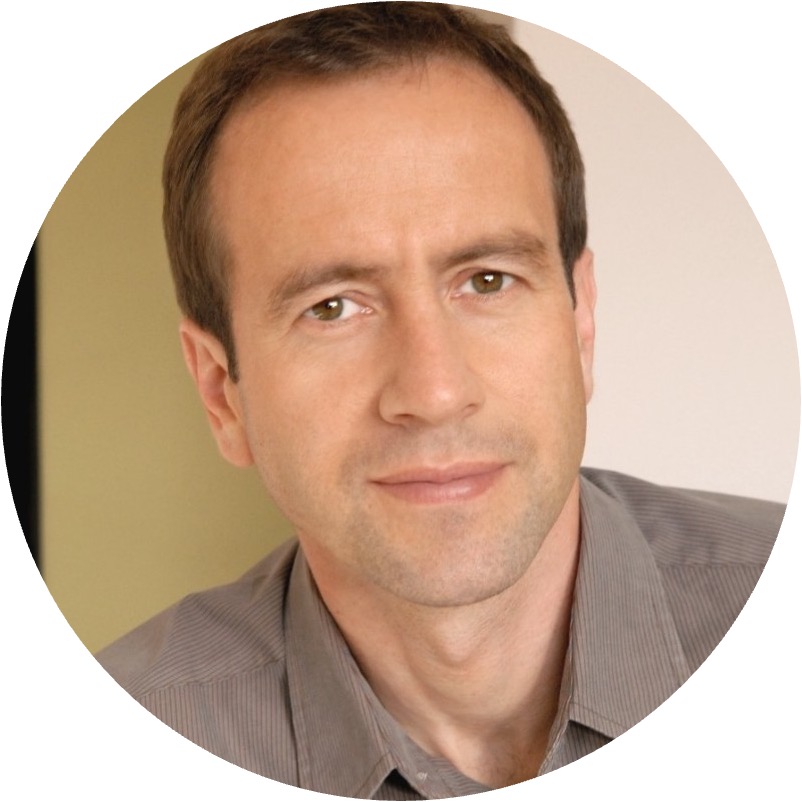 I just finished Ulli's course and found it very informative and well presented. I am an experienced brand and marketing strategist yet still learned a huge amount. The content is very thorough and well structured and includes a lot of good examples that illustrate the theory. Ulli is very clear in his delivery and each unit is nicely paced. I did the course over three days but I would suggest other students take it at a slower pace to give them a chance to act on some of the lessons before moving on to the next unit - there is just so much good material in there. Whatever your level of expertise in brand positioning I would highly recommend you take Ulli's course.
Mark Simmons, brand strategist and author of Punk Marketing: Get Off Your Ass and Join the Revolution, and The Business Playground: Where Creativity and Commerce Collide, USA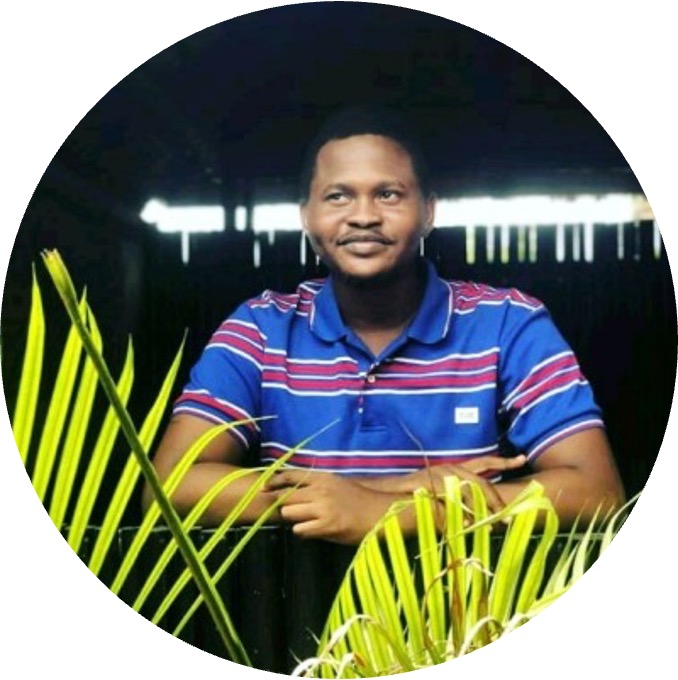 Science and craft of brand positioning development is a simple yet effective course that teaches the basics of positioning that every business-minded person should know. The course was refreshing, and I am excited to have taken it.
Oreoluwa Aderinkomi, strategist, UK
Curriculum
Module 1: What is a brand? 
Module 2: What is a brand positioning?
Module 3: Brand positioning frameworks
A little tip from the frontlines
Module 4 The brand analysis framework
Module 5: Targeting 
Module 6: Setting Objectives
Module 7: Demystifying insights
Module 8: 26 sources of brand associations & insights
Module 9: 9 ways to frame your brand
Module 10: 7 ways to connect with your consumers
Module 11: 10 ways to tell your brand story
Module 12: How to use the 26 sources of associations when alone & in a group
Tips on how to manage difficult groups & the loudest voice in the workshop
Module 13: Examples of brand positioning statements & how to evaluate them
Module 14: Watch-outs and mistakes when positioning a brand
Module 15: Concluding thoughts 

WHAT YOU ARE GETTING
Access to content for life
Regular updates
Learn at your own pace
 Material to download

Hi, I'm Ulli
I am an award-winning and seasoned marketing and brand strategy consultant. I have held senior strategy roles in Europe and the U.S.A. at some of the leading advertising agencies in the world, including BBDO, Leo Burnett, Fallon Worldwide, and SapientNitro, before starting my own brand research and strategy firm First-The-trousers-Then-The-Shoes Inc. (www.first-the-trousers.com)
I have contributed to 7 Effies and an ARF (Advertising Research Federation) Ogilvy award for Excellence in Research, and my insights and strategies have helped build brands including Wrigley/Mars, Harley Davidson, Hallmark, Nestle, Procter & Gamble, Chrysler, Unilever, Hallmark, Symantec, Siemens, Flexera, Anchore, Double Good, Cyber Risk Alliance, Post Consumer Brands, Land O Lakes in Europe, Asia, Latin America, and the US.
I am the author of the award-winning " The Brand Positioning Workbook: A Simple How-To Guide To More Compelling Brand Positionings, Faster" and the creator of the best-selling " Positioning Development Method Cards" and "Aha!, The Ultimate Insight Generation Toolkit", already used by tens of thousands of marketers and strategists around the world.
I created the book, the method cards, and now this online course because I saw a gap in the market. In fact, there is no comprehensive and affordable training publicly available that teaches the fundamentals of brand positioning and brand positioning development and gives you a hands-on methodology on how to create strong, compelling and business-building brand positioning platforms. Sure, there are lots of opinions and self-promoting content out there, but nothing substantial, and really valuable. Until now.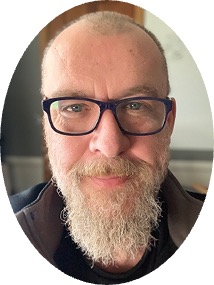 I HAVE READ YOUR BRAND POSITIONING WORKBOOK. DOES IT STILL MAKE SENSE FOR ME TO TAKE THE COURSE?
While this online course is based on the methodology described in the award-winning "Brand Positioning Workbook," it contains valuable additional material not included in the book:
A module on targeting
A module on objectives setting
A module on insights, what they are and how to find them
A module on how to use the 26 sources of brand associations when alone or in a group
A module analyzing and critiquing 4 different brand positioning statements to help you understand what to look for and how to assess whether a positioning is good or not.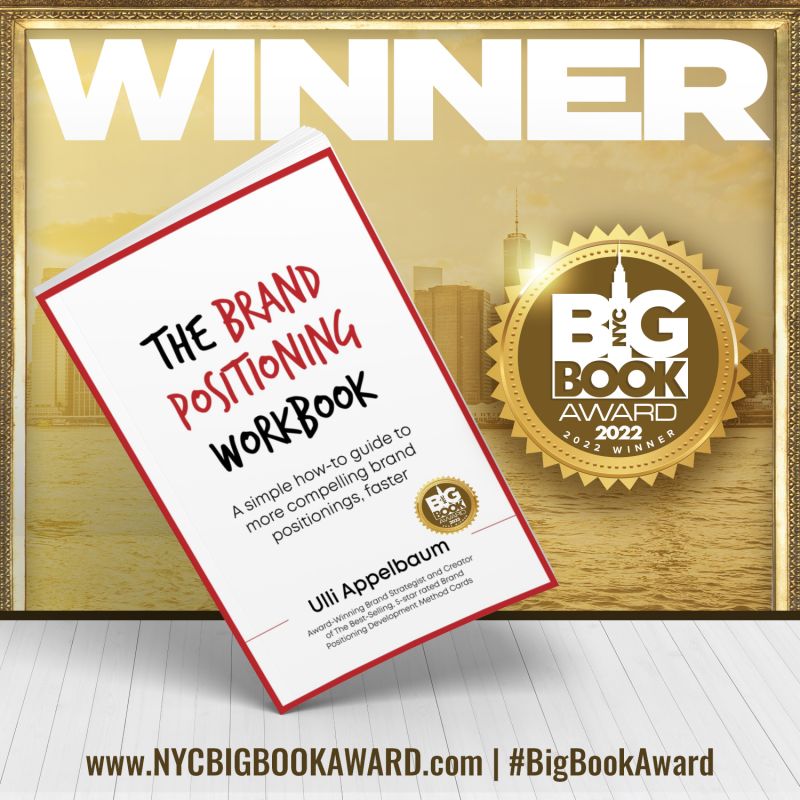 Not quite ready for the course? Check out my award-winning book instead!
Maybe you want to check out the book first and see what this methodology is all about. Then click here

Check your inbox to confirm your subscription